Comfortable and light backpack equipped with pockets and compartiments to keep everything organized. Includes a removable pocket that can turn into a little bag.
Lightweight 350g Lightweight 350g Lightweight 350g
Laptops up to 17" Laptops up to 17" Laptops up to 17"
Water Resistant Recycled Nylon Water Resistant Recycled Nylon Water Resistant Recycled Nylon
43 x 31 x 15 cm / 20L 43 x 31 x 15 cm / 20L 43 x 31 x 15 cm / 20L
Eco Packaging Eco Packaging Eco Packaging
- Comfortable backpack with wide padded shoulder straps
- Light recycled nylon
- Equipped with many pockets: three zippered of different size, an easy to access one on the side and one removable that converts into an independent pouch.
- Removable front pocket that turns into a purse
- A hook to attach your keys is hidden in the front pocket.
- Adjustable straps, soft webbing handles and compression straps on one side
- Inner padded compartment for laptops (for devices up to 17")
- Bottle holder
- Inner zippered pocket
You can clean your Cousteau with a soft brush, warm water and soap.
Orders are dispatched within 48 hours on business days (not including Spanish public holidays) and shipped from our warehouse in Barcelona.

-Spain & Portugal: 24- 72h (Free shipping)
-Europe: 2-4 days (Free shipping on orders over 150€)
-Rest of the world: 3-6 days (Free shipping on orders over $200)

When ordering from countries outside the EU, you may need to pay import tax and custom clearance according to local rules.

Easy Returns within 30 days.
We currently accept payments by:

-Credit Card (Visa, MasterCard and Amex)
-PayPal
-Apple Pay
-Klarna
-Bizum
-MB WAY
-Multibanco
-Sofort
-SEPA Bank Transfer
We donate 1% of our profits to Foundawtion, learn more here. Support this project that generates positive values through education, design and architecture.
Secure Payments
1% Donated
Designed in Barcelona
(1) MULTIPLE POCKETS
Three zippered pockets of different sizes and an easy access one on the side.
(2) KEYS' HOOK
Hook to attach your keys is hidden in the front pocket.
(3) ADJUSTABLE STRAPS
Soft webbing handles and compression straps on one side.
(4) REMOVABLE POCKET
The removable front pocket is specially useful to carry your essentials...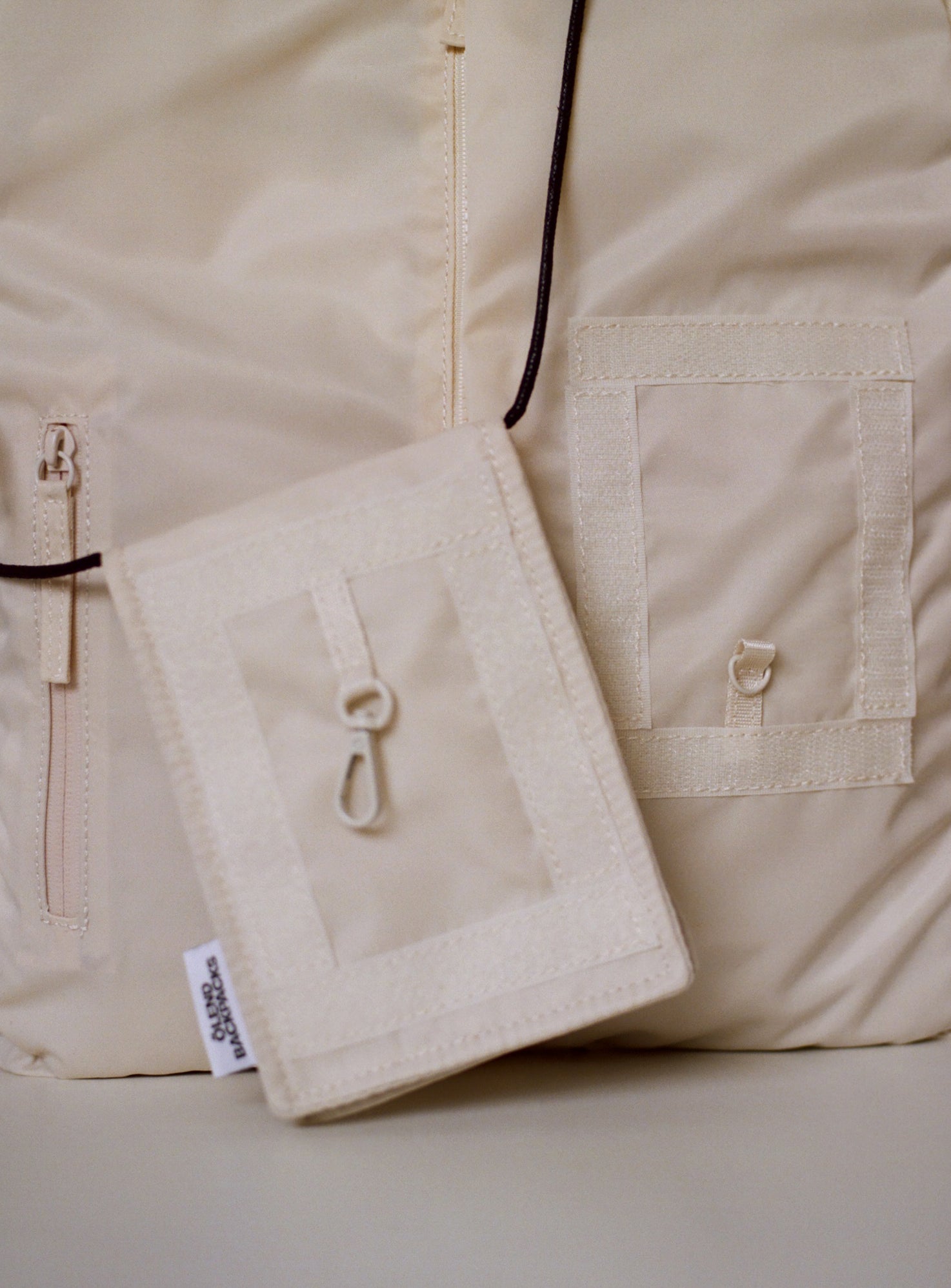 ...wear your Cousteau Backpack to work but only take the pouch when you go out for lunch or to keep your phone and documents close at the airport.
(5) FUNCTIONAL INTERIOR
Inner padded compartment for laptops (for devices up to 17"), a bottle holder and a zippered pocket.
Cousteau backpack - serious durability issues.
Impressed initially until the zip on the first pack snapped.
Was promptly sent a replacement but within a few months the bottom seam has started to unravel. It's been carrying a laptop and a flask around once a week so it hasn't been up a mountain!
Again, prompt customer service but want me to repair and send them a bill, when I just want to send everything back and get refunded. I've lost complete confidence that this product can withstand even mild use and for ,£100+ this is unacceptable.
I advise you to read the reviews of their other products, durability comes up time and time again.
Buy one if you want your kit to not be in it by the time you reach your destination or want to be looking for a new pack in 3 months! (Which is what I'm having to do) 😥
Beautiful backpack though not as durable as I had hoped
Love the look, design, and feel of this backpack! The pockets are super useful, the material feels great, and I get lots of compliments on the style. My only complaint is that the shoulder strap durability is a little bit questionable and has began to fray after only 3 months of general everyday use. The website says the policy is to replace any backpack that has damage if purchased within one year, however, customer service has not replied to my email yet. Would love to rate this backpack higher if I'm able to get a replacement!
Hello Jason,
Happy to hear you are enjoying the bag. Don't hesitate to reach out to us again at help@olend.net if you still need any help. Thank you!
Cousteau
I like how many pockets there are and found the detachable pocket on the front of the pack especially clever. The wide straps make the pack comfortable on the shoulders even when fully loaded. I'd like if the pack had a bit more structure - the pack tends to sag inwards when the interior zippered pocket is all the way filled, but I'm not sure how'd that work with the fabric that was chosen to construct it (a fabric choice that makes the pack durable, yet lightweight which is nice). Though less sturdy than other packs I've had, I believe the padding is sufficient to protect laptops or any other product that would require that kind of extra care. The zipper is so smooth, an excellent zipper really. Idk I like this pack, I'd buy it again.
Lives up to the hype
Excellent backpack. Functional, light, looks great. Highly recommend.
REMEMBER TO TAG @olend_backpacks